Corporate Overview
More than half a century has passed since the establishment of Yodogawa Steel Works in 1935.
Initially a manufacturer of hot-dip galvanized steel sheet, we now manufacture steel sheet, building materials, exterior products, rollers, and gratings.
We have evolved into a maker of steel products for a wide variety of fields, ranging from industrial products such as industry's top-quality colored steel sheet to general consumer products such as storage compartments.
Our activities extend into many other areas as well. We own and make available to the general public the Yodoko Guest House in Ashiya, Hyogo Prefecture, which was designed by Frank Lloyd Wright and has been designated as an important cultural property by the Japanese government, and our affiliated companies are engaged in golf course management and other activities.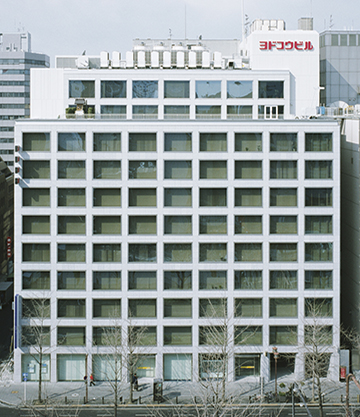 Established
January 30, 1935
Business activities

(1) Manufacture, process and sale of the following products:

Cold rolled steel sheet, steel strips, plated steel sheet, colored plated steel sheet, printed steel sheet, and other types of steel sheet
Cast iron rollers, cast steel rollers, and other types of rollers
Household equipment, household implements, and building materials
Other steel products

(2) Design and contracting of construction work
(3) Warehousing, packaging, and shipping
(4) Sale, purchase, and leasing of real estate, and associated operations
(5) Building of produce cultivation facilities and landscaping
(6) All business activities associated with the above

Capital
¥23.22 billion (as of March 31, 2020)
Annual sales
¥102.6 billion (term ending March 31, 2020)
[Consolidated] ¥154.0 billion
President
Satoshi Nitta
Employees
1,204 (as of March 31, 2020)
[Consolidated] 2,431
Business locations

Head Office: 4-1-1 Minami-honmachi, Chuo-ku, Osaka 541-0054
TEL 06-6245-1111

Branch Office: Yodoko Building, 1-3-7 Shintomi, Chuo-ku, Tokyo 104-0041
TEL 03-3551-1171

Plants:
Osaka, Kure, Ichikawa, Izumiotsu, Fukui, Himeji

Sales Offices(Local Offices):
Sapporo, Greater Sendai, Morioka, (Fukushima), Niigata, Nagano, Greater Tokyo, Takasaki, Yokohama, Hokuriku, Greater Nagoya, Shizuoka, Greater Osaka, Kobe, Greater Hiroshima, Okayama, Greater Takamatsu, Kochi, Yahata, Greater Fukuoka, Kagoshima, Okinawa
ISO certification
Osaka Plant
ISO 9001 certified
(steel sheet and roll)
ISO 14001 certified
Kure Plant
ISO 9001 certified
ISO 14001 certified
Ichikawa Plant
ISO 9001 certified
ISO 14001 certified
Izumiotsu Plant
ISO 9001 certified